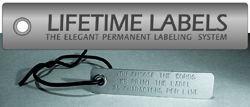 Discount Label offer ADD to your order today.
Anodized Aluminium Labels - proven for long life and permanence in outdoor conditions. Reinforced eyelet to eliminate wear.
The Unobtrusive Labels are easily found on plants. 114mm long x 25mm wide.
Purchase Lifetime Labels for your on line plant order at the discounted price of $1.55 per label.
Each label will be printed with the current Year of purchase
Embossed Letters or Numbers totally permanent and easy to read. If label becomes dirty just wipe over with a damp cloth Quickly and Simple once attached to trees you get several years plant growth before ties need adjusting. Branch Tie Included label arrives embossed and ready to tie on the plant. Will not Damage Branches.our ties are made of copper wire encased in black U.V. resistant covering. Stainless Steel Stake to attach label to. These are neat and practical. Will not corrode in soil. Ideally suited to young or small plants, perennials etc. Footed Stainless Steel Stake The 'foot' can't be pulled out making the Stake child-proof and also deters vandalism in public places.

Updating...